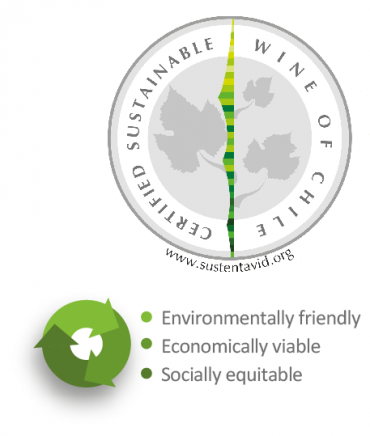 The certification is a process transparent and independent, which is based biannual audits carried out by certifying companies registered in the register of certification of Sustainability Code. What is "certified" is the sustainable management of the company, obtaining the right to use the stamp of "Certified Sustainable Wine of Chile".
The Code's requirements are part of a long-term vision, based on the combination of environmental principles, social equity and economic viability.
There is a Compliance Standard and a Checklist that contains the requirement and scores for area. It also has a General Regulation, which describes criteria, procedures and requirements for certification.
The Code allows wine companies to be certified in the Green, Red, and Orange Areas and for individual grape producers to be certified in the Green Area and wineries in the Red Area.
Empresas vitivinícolas
The company requests certification, including the grape suppliers in the Green Area, if applicable, in the percentages required by the Sustainability Code. In addition, it must meet the Red and Orange Area requirements. Once the certification is obtained, the logo may be used in accordance with the specifications outlined in the Brand Manual.
Productores y/o Bodegas
Grape producers or wineries that request certification individually and independently may choose this option. In this case, a certificate is granted for the respective area and the logo can only be used on signs placed on the property or winery facility (as appropriate), print materials or other public media. The certificate does not give the company the right to use the logo on the final product (wine). This is reserved for the companies that obtain certification for all three areas (Option 1).